Michelina
Studio Owner
& Founder of My Yoga Canyon Country
Qwner & founder of My Yoga Canyon Country
She decided to quit her day job, and open My Yoga Canyon Country.  In this, she has chosen to leave what is not serving her and follow where her heart and passion is: yoga.  She has opened the doors to My Yoga Canyon Country to be your yoga studio home.
Yoga has been a transitional and life saving experience for Michelina. She is happy to offer the gift of yoga as you can open it up to be whatever you want it to be. Whether this gift of yoga fuels your body, mind, heart, or soul, Michelina is there to offer yoga in any or all of these entities. Michelina feels that we all come to yoga at different points of our life and the mat space is a place that we can take that journey, as then it assists beyond the mat.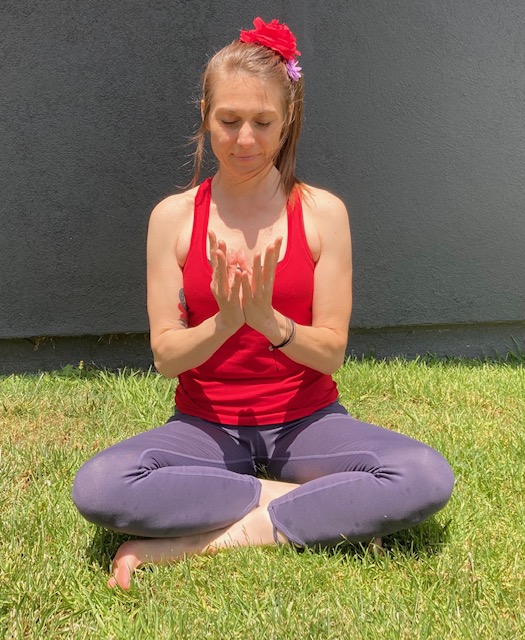 Prior to My Yoga Canyon Country, she taught yoga in various Southern California regions: Orange County, Long Beach, Temecula Valley, Mammoth, Wrightwood, and locally in Santa Clarita. She also taught yoga in Portland, Oregon. One of Michelina's Portland ventures involved having a yoga studio named Yogapawse, combining her love for cats and passion for yoga within a cat themed yoga space. Michelina is an E-RYT 500 certified yoga teacher via yoga alliance. She is also certified in 40 hours of Bhakti Yoga, 20 hours of Restorative Yoga, and 25 hours in Yoga Nidra.  She has completed 20 hours of Yin Yoga study. Beyond yoga love she is also a Usui/Holy Fire III Reiki Practitioner.  Michelina also holds a BS in Kinesiology with a double focus: Fitness and Health and Physical Education, along with a K-12 Physical Education teaching credential, and minor in English.
Yoga Classes with Michelina
Michelina likes to weave in themes and practical thoughts throughout her classes, tells mythological stories of yoga in correlation to class, and sometimes plays the harmonium. She gives many variations to the physical practice of any given class. Along with the physical she offers mind, breath, heart, and spirit entities within her teachings. You can choose which one or all that suits you best for your practice.
If Michelina were to give her yoga practice one word, what would it be?
Lifestyle.
What is Michelina's favorite yoga pose and why?
Favorite yoga pose is standing half moon, or ardha chandrasana. It is in this pose where Michelina feels rooted, but lifted.
What is Michelina's Super Power
Taking chances!
What song can Michelina hear on repeat?
Zombie, by the Cranberries.
What is Michelina's favorite snack?
Chips and Salsa… yum!
When Michelina is not teaching yoga, where can you find her?
You can find her on a hike, exploring the outdoors, traveling, taking yoga herself, studying yoga, playing her harmonium, or hanging out with her loved ones and kitty cats.